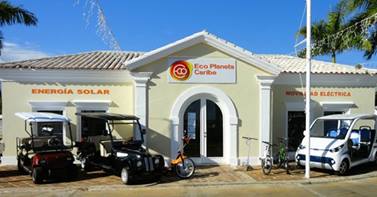 History
Eco Planeta Caribe is a Caribbean company based in the Dominican Republic, founded in 2011 by Ernst Cooiman.
We have a store in Casa de Campo Marine and in Casa de Campo a workshop and warehouse.
The company was founded with the aim to contribute to a more sustainable and green future for the Dominican Republic.
We provide products and services that help customers produce green energy, lower their energy consumption, help reduce their carbon footprint.
And all this can be achieved with a high return of investments and big reductions in costs.
Our Team
We are a young, dynamic and multinational team with roots from the Netherlands.
Our founder, Ernst Cooiman, has worked for multiple multinationals in the Netherlands, before starting Eco Planeta Caribe and has broad experiences in business development and logistics.
Since our founding, we as a team gained a lot of experience in solar energy, electric efficiency and electric mobility. Our experiences combined with our enthousiasm for a sustainable  future help us deliver results for our customers and help achieve their goals.
We are constantly on the lookout for new technologies to make our portfolio of products and services more sustainable, more valuable and of higher quality. 
Milestones (so far)
In december 2011 Eco Planeta Caribe opens its first store in the Casa de Campo Marina in La Romana.
In december 2011 Eco Planeta Caribe also starts with importing and selling of its own electric golf cart brand, ECO.
Since july 2015 we are distributor of STAR EV based out of 

Simpsonville, South Carolina in the United States.

In march 2016 Eco Planeta Caribe opens its workshop and warehouse in Casa de Camp.

SInce our founding we helped hundreds of customers in the Dominican Republic rent, buy, maintain and repair golf carts, install solar energy and do energy audits for energy efficiency.