If you are looking for an exclusive resort in the Caribbean then Casa de Campo in the Dominican Republic is the place to be. The Casa de Campo resort is located on a 7000 acre strip on the southeastern coast. It is basically an exclusive mini city in paradise.
The Casa de campo resort has so many things to do, that it is difficult to choose what to do.
We curated this guide with as many as possible things to do that have 4 and 5 star ratings on Tripadvisor.
Things to do before you arrive
Rent a golf cart
Casa de Campo is big. And residents and frequent visitors of Casa de Campo all know it, golf carts are the way to move around in Casa de Campo. No matter if you rent a villa, you are staying at the Casa de Campo hotel or in the Casa de Campo Marina, you need one.
#1 Eco Planeta Caribe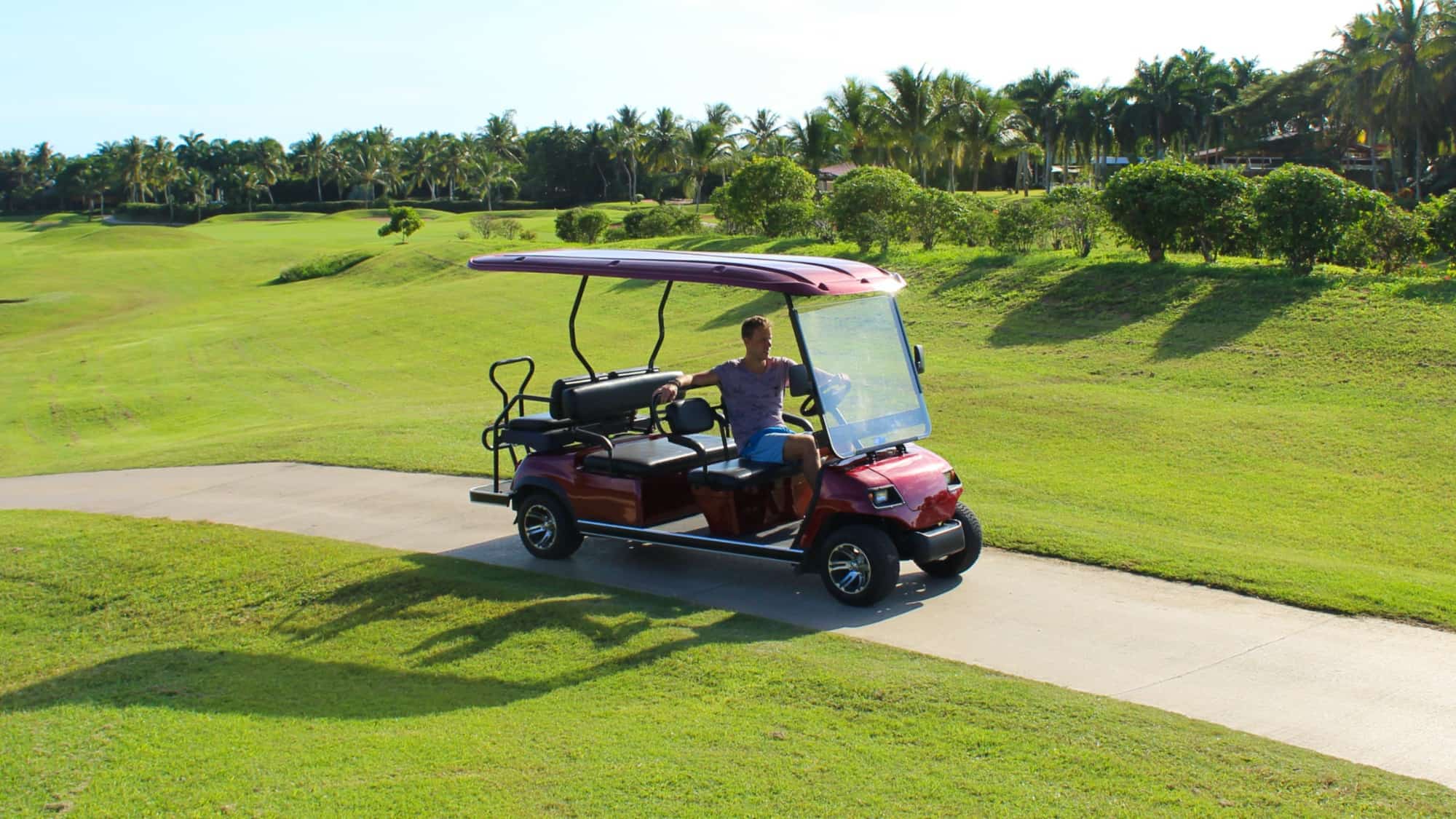 We rent premium electric golf carts, that are silent, comfortable and fast for competitive prices. You get discounts if you rent for longer periods and multiple golf carts. We deliver the golf carts at your villa, hotel room or boat for free.
Tip: If you visit Casa de Campo in the high season, we advise you to make a golf cart rental reservation as soon as possible.
Groceries
If you are renting a villa you need to do some groceries. There are two supermarkets in the area, one in Casa de Campo and one in La Romana.
#2 Supermercado Nacional
Supermercado Nacional is located in the Casa de Campo Marina. You can get there easy with a Golf cart. You can even call them for delivery of your groceries to your villa.
You can call them at +1 809 523 2344
#3 Jumbo La Romana
In case you don't find your groceries in Nacional, you can go to Jumbo in La Romana. It has a bigger selection of products. You only need a rental car or taxi to ge there.
You can call them at +1 809 813 5033. 
Car rental
If you are staying in Casa de Campo and you want to discover the rest of the Dominican Republic on your one you need to rent a car.
There are three places where you can rent a cart. You can contact more then one to compare prices and check for availability.
#4 Avis
Avis is located in the Marina. You can call them at +1 809 550 0600.
#5 National
National is located in Casa de Campo near the Polo court. You can call them at +1 809 523 8191.
#6 Alamo
Alamo is located at the Casa de Campo hotel. You can call them at +1 809 523 8191.
Taxi
If you don't need a car for longer periods of time, grabbing a taxi is cheaper.
Taxis in the Dominican Republic don't work with meters. We advise to arrange the price when you call the taxi dispatcher or before entering the taxi.


#7 Prestige Limousine Service
Tripadvisors Rating 5.0

Prestige Limousine Service gets the highest possible rating on Tripadvisors. Reviews show that the drivers and call center employees are very professional and reliable and speak english.
Call them at +1 809 550 7227.
#8 Travelservice Transfer.do
Tripadvisors Rating 5.0
Travelservice Transfer.do also gets the highest possible rating on Tripadvisors. They also have drivers and employees that are highly regarded. Depending on your needs, you can select different types of taxis. They have normal taxis, luxury limousines and taxis specially for disabled people.
You can book a taxi on their website or call them at +1 855 980 0840.
#9 Dominican Airport Transfers
Tripadvisors Rating 5.0
Dominican Airport Transfers has a certificate of excellence of Tripadvisor, because of their five star rating. Customers also say that their service is professional and they offer all kinds of transportation, also for disabled customers.
You can book a taxi on their website or call them at +1 407 420 7646.
#10 Dominican Plus
Tripadvisors Rating 5.0
Dominican Plus offers a broad selection of vehicles customers can choose from. They provide a good service and have clean and safe taxis.
Call them at +1 809 455 0297.
If you life an active lifestyle and love sports, then Casa de Campo has a lot to offer.

#11 Golf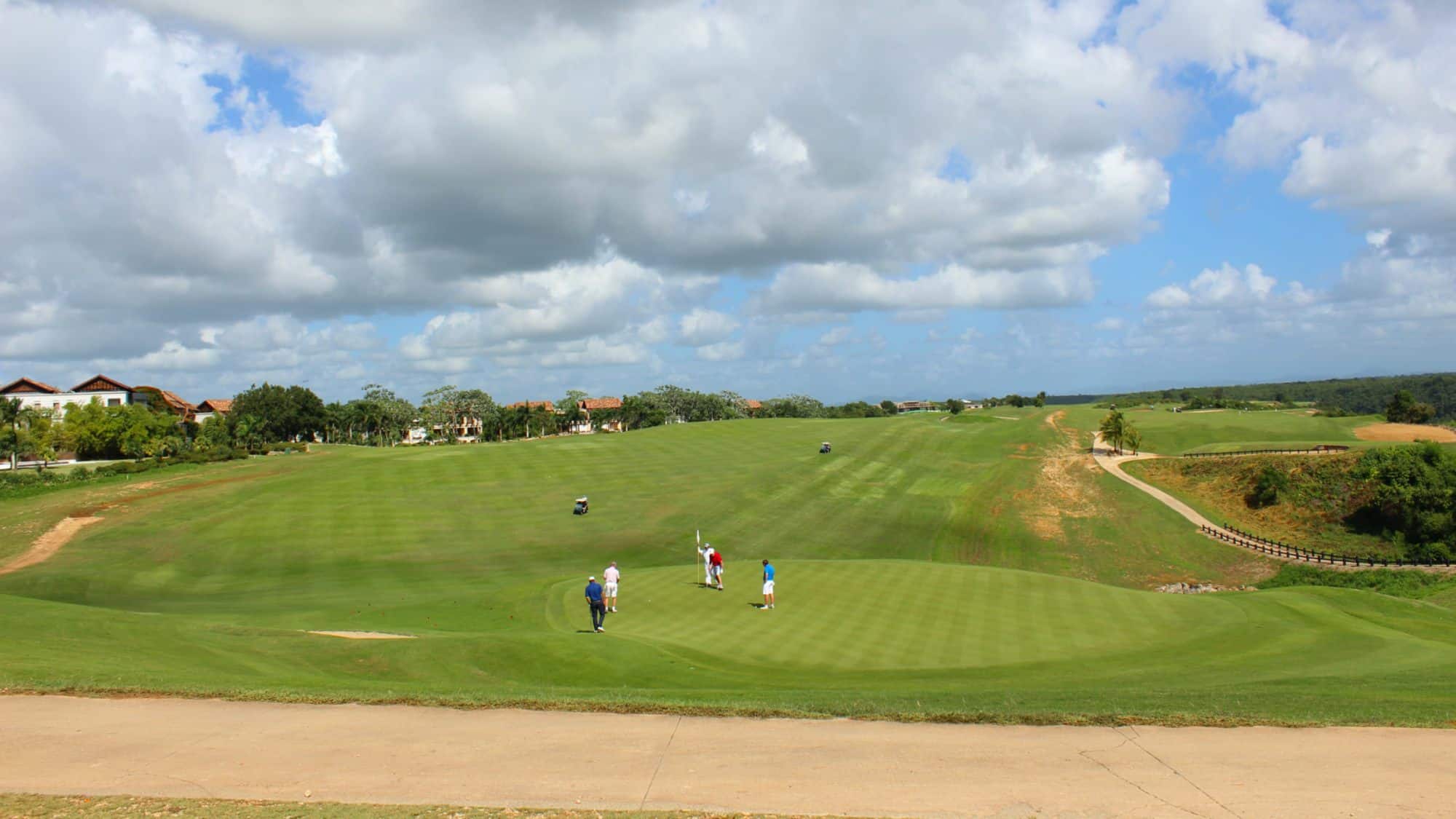 One of the things Casa de Campo is famous for, are the golf courses. The golf courses are constantly ranked number 1 in the Dominican Republic and number 1 in the Caribbean and in the top 100 world wide.
From beginners to experienced golfers, all can enjoy the sports on the golf courses Teeth of the Dog, Dye Fore and The Links. You can reserve your tee time online.
#12 Tennis
Are you an avid tennis player? Then La Terraza Tennis Center will not disappoint you. It has 13 fast-dry Har-Tru tennis courts for players of all skill levels.
Need to brush up you tennis skills? At La Terraza you can reserve a highly skilled tennis instructor.
And if you are traveling with a big group of tennis enthusiasts you can let La Terraza organise your own tennis tournament.
#13 Fitness centre
Working out is a lifestyle. And if you go on holiday to Casa de Campo, you can still stay in shape.
The fitness centre has premium workout equipment and offers personal trainers you can hire. It also offers classes in zumba, spinning, pilates and functional training.
And there are also physical therapists on site to address any injuries.
#14 Horse riding
Casa de Campo also has an equestrian center. You can hire a guide for a leisurely ride around Casa de Campo and the surrounding area. Or you can hire private instructor to improve your skills.
For more experienced horse riders, there is also the availability to improve your horse jumping skills under the guidance of experience staff on site.
And beginners and experienced polo players can also hire polo ponies to play polo at one of the best polo facilities in the Caribbean.
#15 Shooting range
Do you have great hand eye coordination? If so, you should visit the shooting center in Casa de Campo. For shooting novices there are shooting instructors. And the shooting center has a lot to offer for experienced shooters: Trap, Skeets, Sporting Clay and driven pheasant, partridge and duck shoots.
Watersports in Casa de Campo
#16 Fishing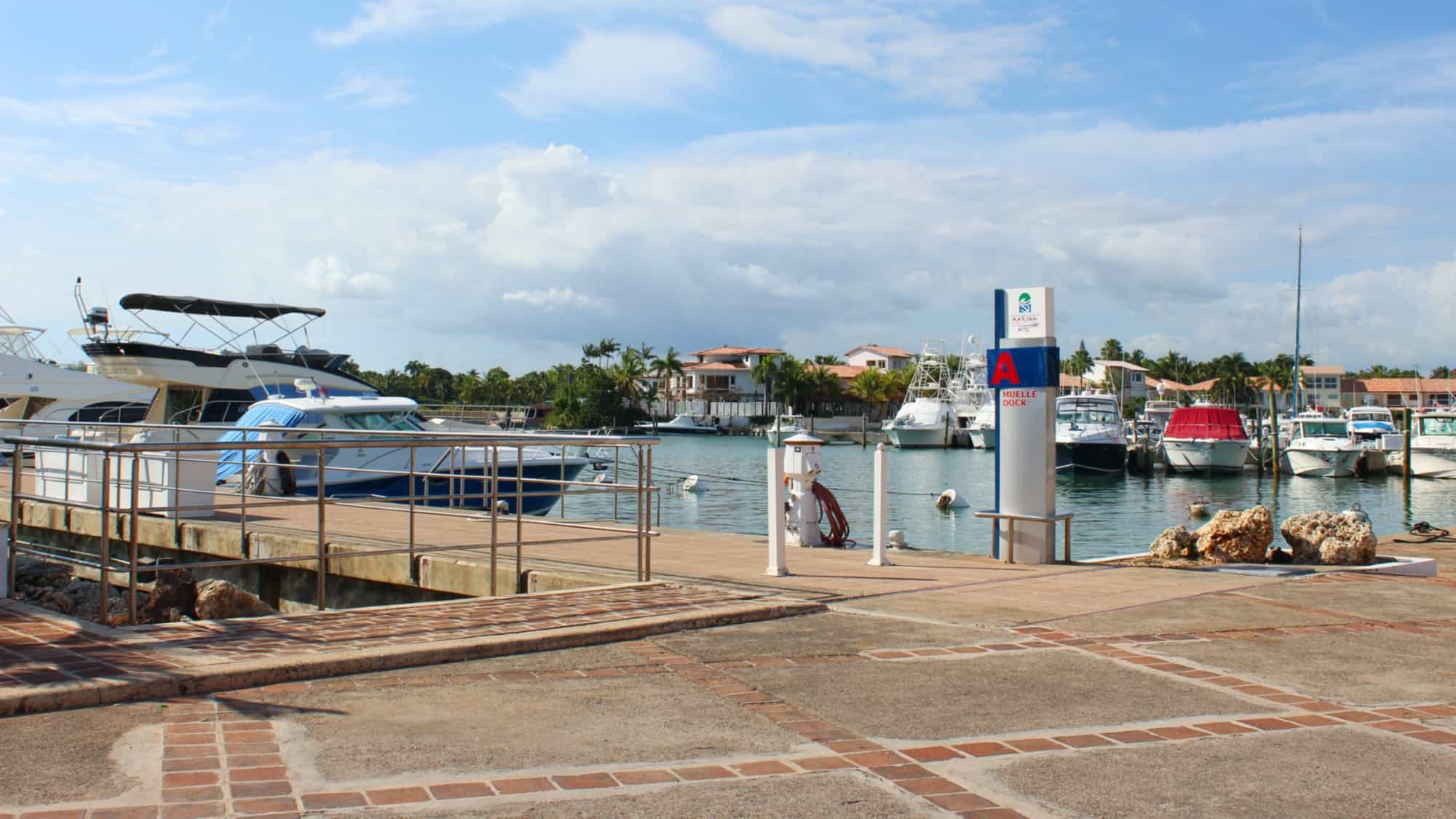 The Casa de Campo Marina is an ideal base for sport fishing. The Caribbean waters are full of barracuda, wahoo, kingfish and the ultimate trophy fish, the blue marlin.
The fishing season starts in February and ends in May. The Marina attracts on average 40 professional fishing boats from the United States and organises two fishing tournaments a year.
Contact the Casa de Campo concierge for availability.
#17 Kayaking
Like we said earlier, golf carts are the easiest way to discover Casa de Campo. But you can discover Casa de Campo also from the water.
You can rent one or two-person kayaks and paddle from Minitas Beach all the way to the beautiful and serene Chavon river.
#18 Scuba Diving and Snorkeling
The waters near Casa de Campo are perfect for scuba diving and snorkeling. There around 20 diving spots in the area with clear visibility that are accessible 350 day a year.
Most of the diving companies are located in Bayahibe, about 20 minutes with a taxi from Casa de Campo.
Here is an overview of the scuba diving and snorkeling organisations in Bayahibe with the best reviews:
#19 Paddle Boarding
Test your balance, strength and endurance with paddle boarding. Available at Playa Minitas.
Excursions in Casa de Campo
#20 Altos de Chavon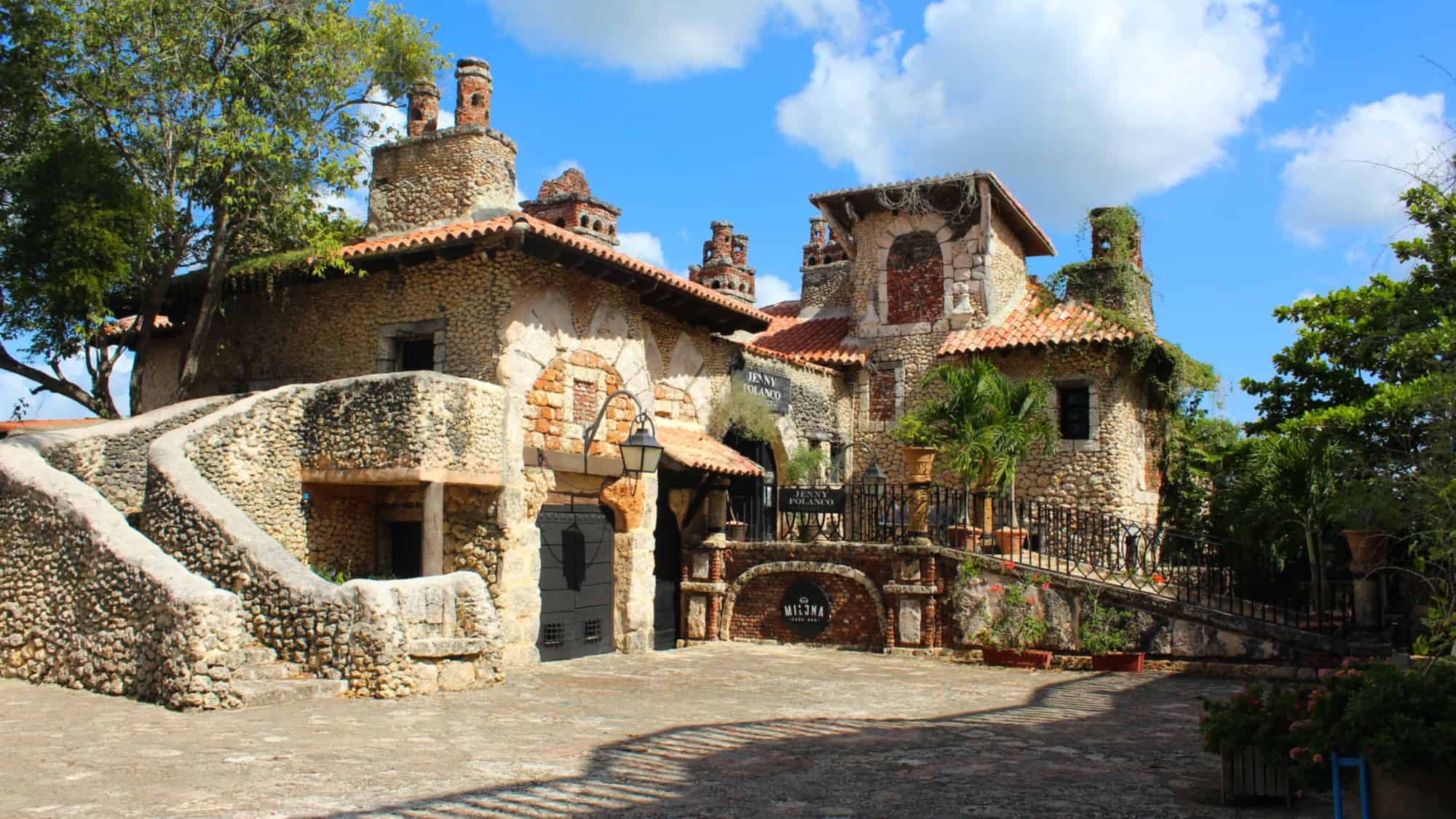 If you like beautiful architecture, beautiful views and in need of some stunning pictures, you have to visit Altos de Chavon. It is probably the biggest tourist attraction in Casa de Campo.
Altos de Chavon is a 16th century replica village build on a ridge of a hill overlooking a river below.
It is an beautiful place for the ultimate wedding, to dine or go out a night.
Altos de Chavon also hosts world class music events in its amphitheatre. David Guetta, Afrojack, Bad Bunny, Marc Anthony and Ozuna. Follow the events calendar for upcoming music concerts.
#21 Visit Isla Saona
Tripadvisor Rating 4.5
Isla Saona is one of the most popular excursions travellers do when they are in the Dominican Republic. It is located off the southeast tip of the Dominican Republic and is part of the Parque Nacional del Este.
It is not without reason that movies, like Blue Lagoon, have been filmed here. The island looks like a booty island straight from a commercial.
Everyday you can take an excursions boat from Casa de Campo or Bayahibe to Isla Saona. Excursions last a whole day.
#22 Visit Isla Catalina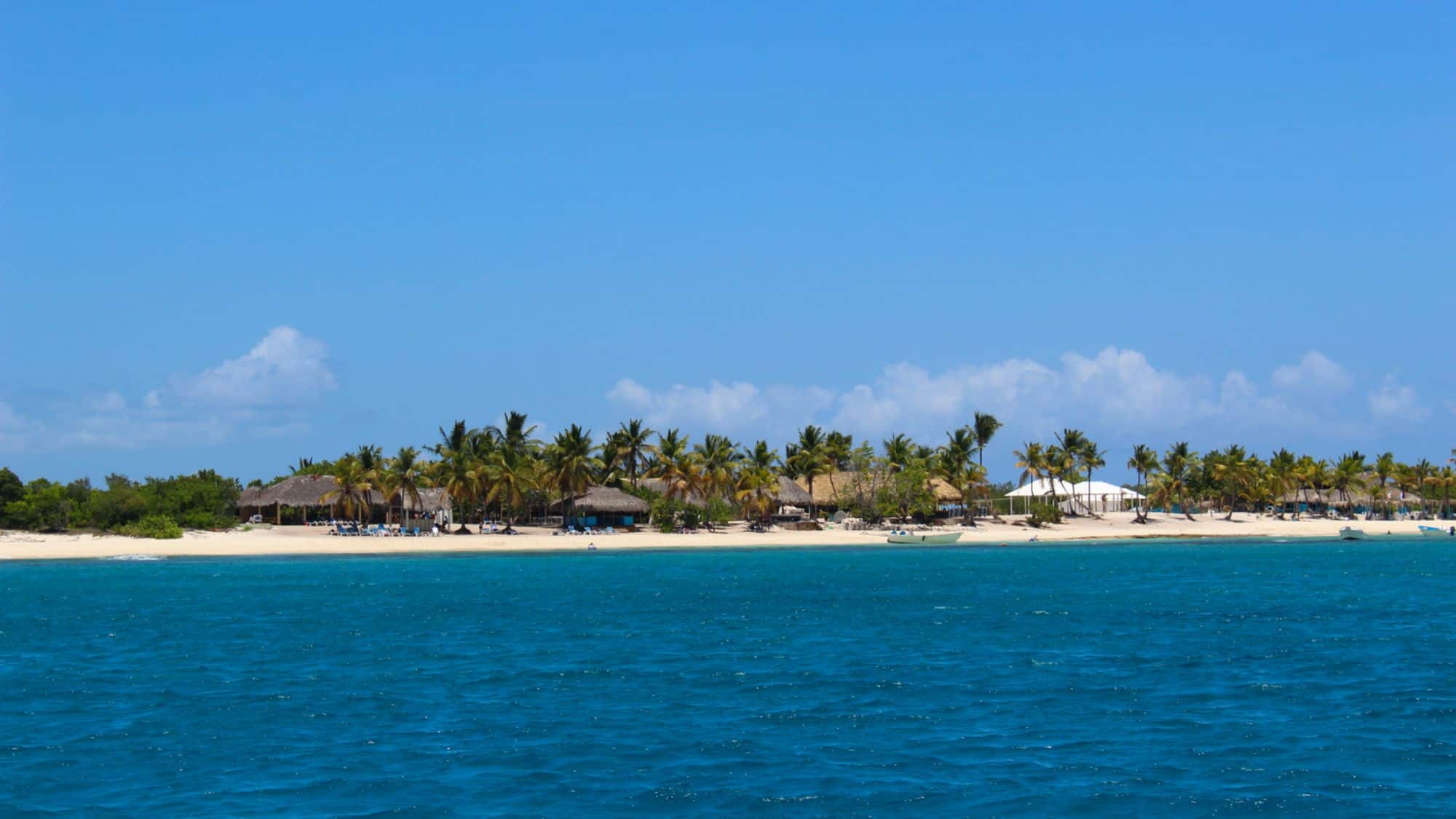 If you like to visit an beautiful island that has less tourists and is closer by Casa de Campo, you have to visit Isla Catalina.
Daily trips depart from the Casa de Campo Marina or Bayahibe.
#23 Crazy Wheels
If you like to get an adrenaline rush you should do a excursion with Crazy Wheels. With buggies and quads you will explore the countryside of La Romana in high speed. Dont forget to bring a bandana and glasses, because the countryside is muddy and dusty!
#24 Visit Rio de Chavon
If like to know and see more of the jungle flora and fauna in the Dominican Republic you have to do a river cruise on Rio de Chavon. Learn about the Taino culture, the original inhabitants of the Dominican Republic, see the biggest butterfly garden in the country and enjoy beautiful views of the valley where the river flows through.
#25 Visit Cuava Padre Nuestro
The Dominican Republic has a huge collection of natural caves. Cuava Padre Nuestro is 30 minutes located from Casa de Campo near Bayahibe. From the parking lot is a short distance walking to the cave, were you can swim. Don't forget to bring a flashlight.
#26 Visit VegaFina Cigar Factory
The Dominican Republic is one of the biggest cigar countries in the world. Visit VegaFina Cigar Factory to found out how they are made. 
#27 Playa Minitas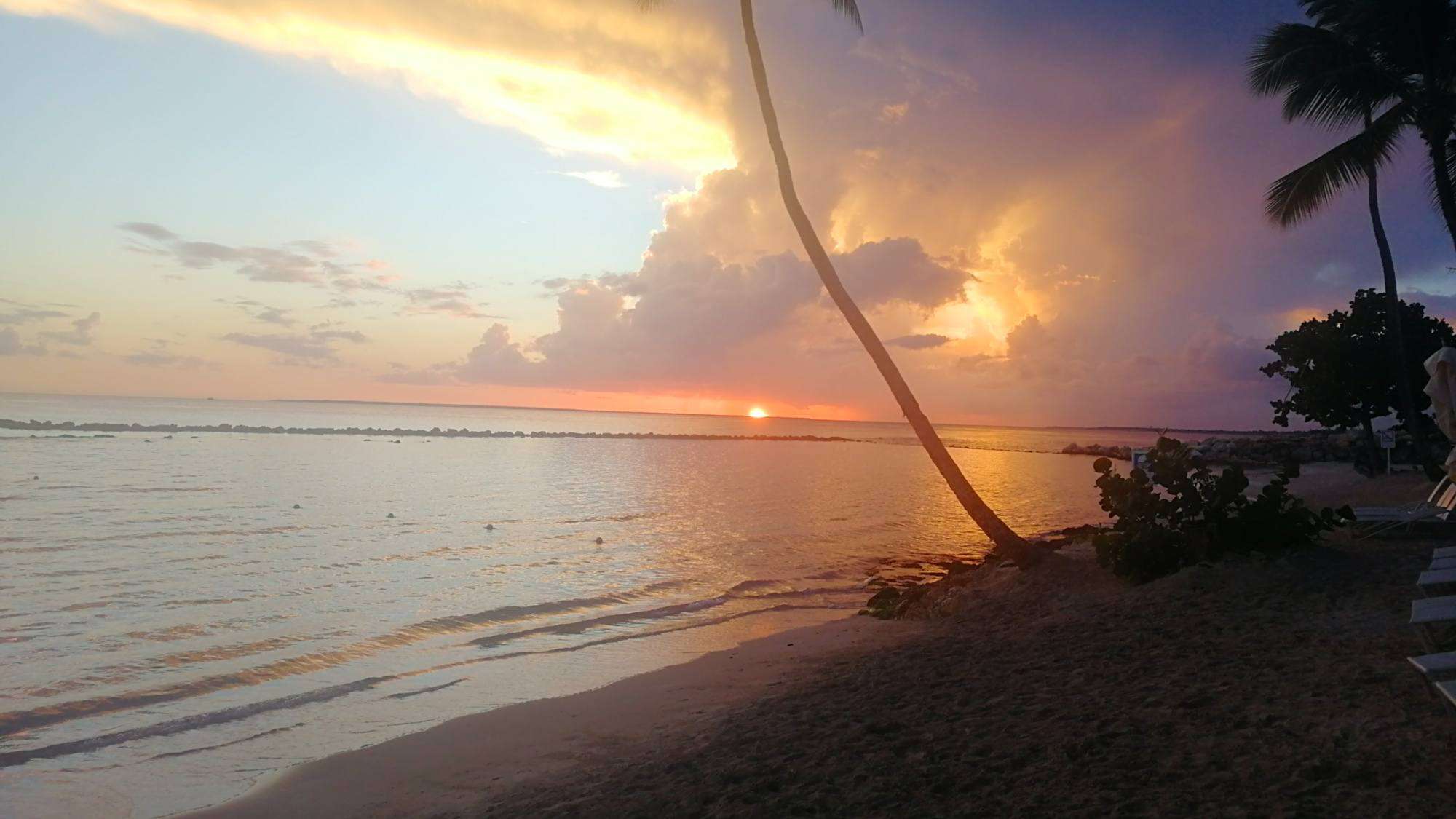 Playa Minitas is the ultimate spot to relax. White sand, palms trees, piña coladas, the ultimate caribbean getaway.
Overlooking the Playa Minitas is the Beach Club, which offers excellent dining. And opposing the Beach Club is the Family Pool, the perfect location for families to hang out.
Casa de Campo restaurants 
Foodies will love the restaurants in Casa de Campo.
#28 SBG Casa de Campo
Tripadvisor 4.5
SBG Casa de Campo is located on the main pear in the Casa de Campo Marina. From this spot you have a beautiful view at the marina and and the sea. The restaurant even got a pool to relax.
#29 Peperoni Marina
Tripadvisor 4.6
Peperoni Marina is located in at the main square in the Marina. You can order excellent seafood and mediterranean dishes.
#30 La Cana
Tripadvisor 4.5
La Caña bar and lounge is located near the polo field in Casa de campo. The menu consists of mediterranean dishes. You can sit inside or you can sit outside on the terrace.
#31 Pubbelly Sushi Casa de Campo
Tripadvisor 4.5
Like Asian food? Go to Pubbelly Sushi, located at main square in the Marina. Like the name suggests, sushi is one of the main dishes.
#32 Las Palmas
Tripadvisor 5.0
Las Palmas is located in Bayahibe, 20 kilometres from Casa de Campo. It is further located then the rest of the restaurants included in the list. But a visit to Las Palmas is worthwhile. More than 1100 people on Trip Advisor give it the highest rating possible. They can't all be wrong.
#33 Onno's Altos de Chavón
Tripadvisor Rating 4.5
Onno's is a nice casual bar with delicious food, like nachos, pizzas and fajitas. Its slogan is: "Eat, Drink, Party. So after dinner, you can stay to dance the night away. Perfect spot for a younger crowd.
#34 La Tiendita by ABS
Google Reviews Rating 4.8
La Tiendita is located besides the highway to Punta Cana 12 kilometers from the Casa de Campo hotel. So you will need a taxi to get there. But it is totally worth it, because they offer high quality meat and fish dishes.
#35 Cañaveral Food Park
Google Reviews Rating 4.5
Cañaveral Food Park is located in the city La Romana just 4 kilometers from the Casa de Campo Hotel. To get there you will need a taxi. The food park is an excellent place for casual dining. Every food truck has a different type of menu. You can order burgers, pizzas, fish and very nice cocktails.
#36 Tracadero Restaurant
Google Reviews Rating 4.5
Tracadero Restaurant is a little bit further away from Casa de Campo than the other restaurants. It is about a 25 minute drive. But the restaurant and its many different pools are beautifully designed overseeing the sea. Tracadero offers Italian, Carribean and seafood.
#37 Curo' Restaurant
Google Reviews Rating 4.8
Curo' restaurant is also located in Bayahibe. It offers Italian, Mediterranean and Barbeque. The meat dishes are delicious.
#38 La Terracita
Google Reviews Rating 4.6
La Terracita is a nice restaurant located in the main street of Dominicus Bayahibe. The dishes are great and in the high season there is even live music.
Nightlife in Casa de Campo
#39 Genesis Nightclub
If you want go clubbing in Casa de Campo, go to Genesis Nighclub. It is located in Altos de Chavon. Check their facebook page for upcoming events.
#40 Kviar Show Disco and Casino Bayahibe
If you like to test how lucky you are you can visit Kviar Show Disco and Casino in Bayahibe to place some bets.
And after winning huge, you can enjoy some sweet tunes and cool cocktails in the disco.
Relaxing in Casa de Campo
#41 Spa Treatments and Services
After working out intensively or if you just want to relax, you have to visit the Casa de Campo Spa. They offer a whole portfolio of different treatments. The massages that Casa de Campo offers are Deep Tissue Massages, Hot Stone Massage, Thai Massage and many more. 
The Spa also houses a beaty salon, that offers Body Treatments for cleaning your body like Exfoliation, Body Wraps, Facials and more.